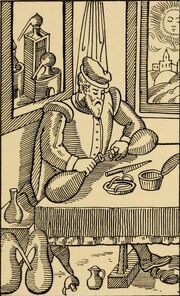 Benefit:
The alchemist gains the ability to create a cognatogen, a mutagen-like mixture that heightens one mental ability score at the expense of a physical ability score. If the cognatogen enhances his Intelligence, it applies a penalty to his Strength. If it enhances his Wisdom, it applies a penalty to his Dexterity. If it enhances his Charisma, it applies a penalty to his Constitution. Otherwise, this ability works just like the mutagen ability (including the natural armor bonus). Anytime the alchemist would prepare a mutagen, he may instead prepare a cognatogen. All limitations of mutagens apply to cognatogens as if they were the same substance—an alchemist can only maintain one mutagen or cognatogen at a time, a cognatogen that is not in an alchemist's possession becomes inert, drinking a cognatogen makes a non-alchemist sick, and so on. When the effect of the cognatogen ends, the alchemist takes 2 points of ability damage to the ability score penalized by the cognatogen. The infuse mutagen discovery and the persistent mutagen class ability apply to cognatogens.
Ad blocker interference detected!
Wikia is a free-to-use site that makes money from advertising. We have a modified experience for viewers using ad blockers

Wikia is not accessible if you've made further modifications. Remove the custom ad blocker rule(s) and the page will load as expected.