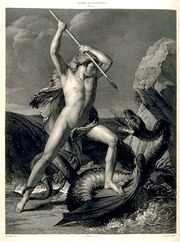 There are some elements you may not know about the Greek Myths that you can add to your games.  Just remember, adding some of these elements may not seem to make sense with your players, infact they may even think your campaign has gone surreal.  But if you are going for an authentic Greek experience with your roleplay, these items may seem invaluable.
Ad blocker interference detected!
Wikia is a free-to-use site that makes money from advertising. We have a modified experience for viewers using ad blockers

Wikia is not accessible if you've made further modifications. Remove the custom ad blocker rule(s) and the page will load as expected.